SPLINED SHAFTS
---
At Hydrauliques Continental, we can machine all types of splines, according to your specific requests. Whether you're working with a Vickers, Denison or other type of pump & motor, our splined shafts are 100% compatible with the original models. Over 900 models in stock. Canadian product, manufactured in our Montreal facility.
Find out more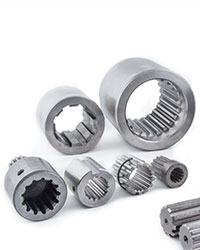 SPLINED BUSHINGS
---
For any type of splined sleeve, our team can machine a part as per your specifications. These are 100% compatible with original Vickers, Denison, and other models. We carry hundreds of models in stock. All our sleeves are manufactured at our Montreal location.
Find out more
FORTE™ COUPLINGS
---
FORTE™ couplings are made of Tenzalloy, making them 60% lighter than steel and stronger than magnesium. We have more than 600 different models in stock and can meet most OEM requirements. These parts are manufactured at our factory in Montreal, Canada.
Find out more
CUSTOM-MADE PARTS
---
At Hydrauliques Continental, we manufactures custom hydraulic components that are used in a broad range of mobile and industrial equipment. We can work with your OEM needs. No minimum production runs. These are Canadian products, made at our Montreal plant.
Find out more
REPLACEMENT PARTS
---
To uphold our exceptional customer service, we are committed to meeting your most unique requirements. If you are using a discontinued pump, valve or motor, it can be challenging to find replacement parts. Here at Hydrauliques Continental, we can manufacture new parts, with speedy lead times and no minimum production runs. Contact our team today!
Find out more
DETAILED CATALOG
---
Download our detailed product catalog, to see the full range of products that we distribute and manufacture, as well as their specifications.
For more information, please contact us!
Find out more